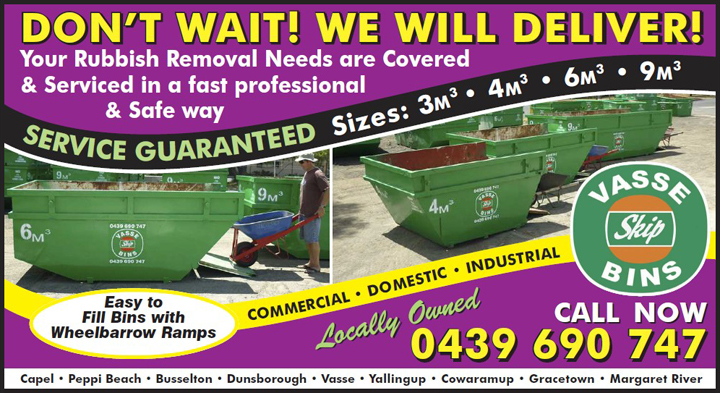 Call Today, Delivered Today
(conditions apply)

To Order Bin Ring 0439 690 747
Welcome to Vasse Bins
The Rubbish Bin Experts!
Thank you for allowing Vasse Bins the opportunity to provide solutions for your waste management needs. We have a dedicated team who do their utmost to provide a great service to you.
No job is too big or too small for Vasse Bins, and we do our utmost to fulfil your needs and requirements. Vasse Bins has cost-effective waste management solutions for all jobs. Skip Bins are perfect for household cleanup, renovation and garden waste. These can also be used to dispose rubble from small construction sites.
Skip bins may also provide an emergency volume for unexpected waste.

We have a vast range of skip bins including 2 cubic metre, 3 cubic metre, 4 cubic metre, 5 cubic metre, 6 cubic metre, & 9 cubic metre bins. Suited for any rubbish removal job, from residential to industrial building sites.
We service the Busselton and the South West.
Vasse Bins


Address:


18 Cook St., Busselton, WA 6280


Contact:


Rob Mackinnon & Ross May


Fax:

08 9754 8371

Mobile:

0439 690 747
We service the :

And everywhere in between

Our Skip Bin sizes 2, 3, 4, 6, & 9 cu.m Suits for Builders,Developer & Householders.

Call Vasse Bins today!
The Skip Bin Hire Experts!

We have a large range of bin sizes for hire. Bins are available on a casual or permanent basis, and we are able to service both domestic and commercial customers.

Our rubbish removal and skip bin hire is first class, fast and affordable. With our 2-9 cubic metre rubbish removal and skip bin hire options, your rubbish removal needs are covered and serviced in a fast, professional and safe way.

Vasse Bins provides waste management services to residential clients.
Some examples are:

House Hold Clean Ups
Garage/Spring Clean Ups
Owner Builders/Renovators
General Yard/Garden Maintenance
Vasse Bins

Rubbish South West - Rubbish Busselton - Rubbish Bunbury

Fax: 08 9754 8371 Mobile: 0439 690 747
South West